Things To Consider While Choosing Best Free Billing Software For PC
An accountant must keep track of your income and expenses if you own a business. This should be the first piece of software you buy when you first start your firm. On the other hand, most business owners only acquire one when they need to pay taxes or ask for loans.
So, how do you pick the best accounting software for your company?
Because there are so many items on the market nowadays, this might be perplexing. I'm attempting to simplify your job by outlining some key features to consider while selecting the best free billing software for PC.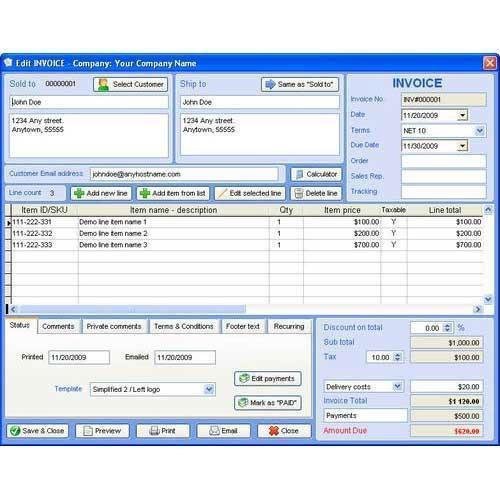 Why Consider Billing Software For PC?
The basic befits of choosing billing software for PC are:
Quickly create invoices…
Create and save custom templates.
Automate communications.
Ensure accurate information
All in one place
Business intelligence
Accept payment online.
Several Features Of Free Billing Software For PC
When choosing billing software for your business, keep the following features in mind:
Elegancy
You are, after all, a business owner, not an accountant. This implies you'll want your billing software to be as simple as possible so you can manage it or delegate it to someone else.
Billing and invoice software that does all of the math will make your life easier. Make sure your billing software makes the procedure easy for you and can handle all of your transactions.
Accessibility
Take a test drive before investing in a billing program. Alternatively, you can look at screenshots of the existing platform. You must ensure that the application is simple to comprehend and navigate.
Keep an eye on the user interface. Is the user interface simple to use? Do you think you'll be able to navigate the application and discover all of the features you require?
Revenue Recovery And Dunning Management
You may reduce credit card declines by using dunning management and Revenue Recovery technologies. These features are especially important when it comes to subscriptions and regular billing. The following is how it works:
The software keeps track of consumer accounts and hunts for credit cards about to expire.
The customer is then notified of the impending expiration
They are encouraged to update their payment information via the software.
You'll require dunning management if you sell subscriptions. As a result, check to see if your billing platform supports it.
Monitoring
You want as much visibility and openness as possible regarding billing. There is no clear way to determine the health of your firm without in-depth reporting. As a result, double-check that your billing provider provides you with access to revenue data and tax summaries.
Anti-Fraud Measures
You must be mindful of the hazards of theft and fraud when handling other people's personal and credit card information. Pay attention to the security elements of billing software when shopping.
Include security details on your site once you've decided on a billing program to give your clients peace of mind.
Conclusion
Every internet company has its billing and invoicing requirements. This is why it's critical to select the best billing system for your company. You can expand your company with the best accounting app for mobile, which is full of the help of a full-service eCommerce partner.