Free Disk Partition Software| Get A Better PC
What does disk partition mean?
Disk partition refers to the logistic part to store data on a hard drive, it is divided by the partition editor. When you first get a hard drive, there's only one partition, it is known as the C drive. If you store all information on the C drive, it is quite inconvenient to locate the data, so other partitions are created.
According to the different features, users can put the files on different partitions. Usually, to sort types of data and ensure data security, many PC users may create several partitions.
With time goes by, there may be some problems, such as C drive becomes full, PC slows down, PC stuck on cleaning up, etc. Therefore, it's necessary for users to manage the disk partitions on the hard drive.
Why need a disk partition tool?
When talks about managing disk partitions, Windows Disk Management can be the top of the list. In a clean interface, users can perform several disk managing tasks, including Resize Volume, Change Dive Letter and Path, Mark Partition as Active, etc.
Although Disk Management can deal with some Windows partition problems, in the following cases, it will malfunction with the extend volume button greying out:
When you try to manage the FAT partitions.
When you decide to extend a partition without an adjacent unallocated space.
When you want to convert MBR to GPT without deleting partitions.
When you convert the dynamic disk to the basic without deleting volumes.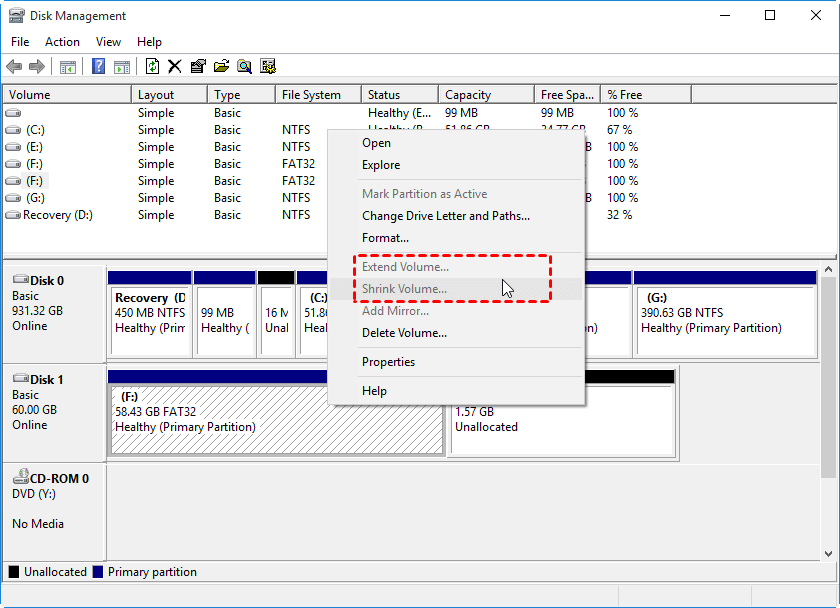 https://www.diskpart.com/screenshot/en/others/windows-10/extend-or-shrink-greyed-out.png
If the Disk Management cannot work normally, you need to turn to a reliable and practical windows partition manager.
How can you select a free disk partition software?
To remedy the shortcoming of Disk Management, it's urgent to find out an alternative disk manager. Which is the best free disk partition software? Share in many forums, the AOMEI Partition Assistant Standard is worth trying.
It can be used on Windows 11/10/8.1/8/7/Vista/XP. Breaking the limitations of Disk Management, this free partition software provides you with the most comfortable disk managing services. In the bright interface, many disk managing operations are supported:
You can easily resize, format, create, delete, merge and even clone partitions.
You can wipe the whole disk, preventing data leakage.
You can clean up all unwanted files from the PC.
You can forcefully delete system-related partitions, such as recovery partition.
You can perform the conversion between MBR and GPT, and you don't need to delete partitions in advance.
However, it is also criticized by the highly centralized function menu. Some users complained they can not quickly find out the function they want. Besides, some functions just provided in the Professional Version. So when you want to use these functions, the Version upgrading wizard may always pop out.
If you don't care about the mentioned disadvantages, you can download this free disk partition software, open it and you'll see the interface below.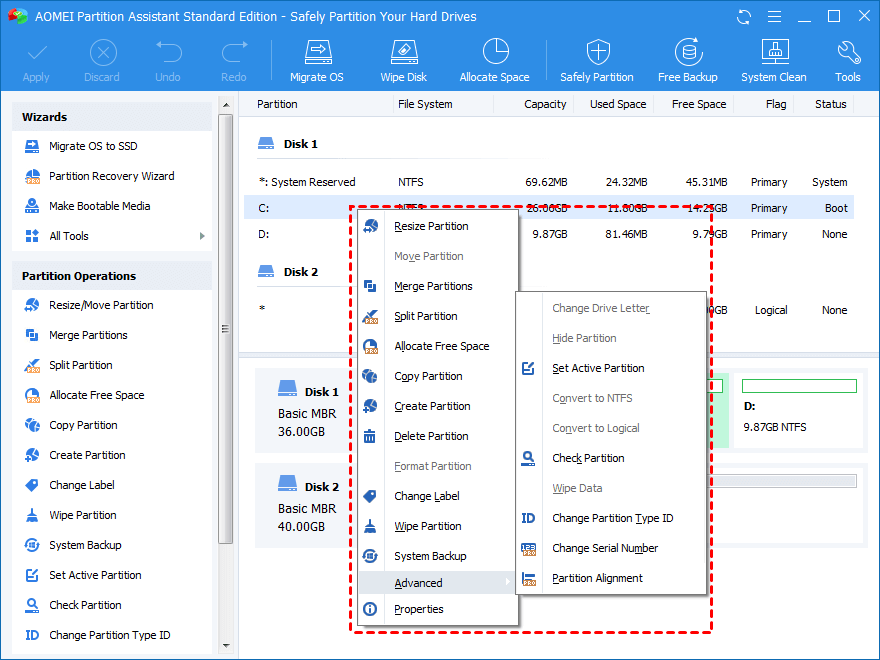 Overview: How to manage a disk partition
In this section, we'll take extending a partition as an example, showing you how to manage a disk partition with this free disk partition software.
Case 1. Extend a partition with adjacent unallocated space
When there's not enough free space on a partition, you may want to extend it. When there's adjacent unallocated space, you can directly extend the target partition with the "Resize Partition" function.
Step 1. Right-click the target partition, here we take the C drive as the example, click "Resize Partition".
https://www.diskpart.com/screenshot/en/std/resize-partition/move-and-extend-partition/extend-c-drive.png
Step 2. Drag the small circle to the right side, adjust the size of the target partition, then click "OK".
https://www.diskpart.com/screenshot/en/std/resize-partition/move-and-extend-partition/enlarge.png
Step 3. Click the "Apply" to start extending the target partition.
Case 2. Extend a partition without adjacent unallocated space
If there's unallocated space, but it isn't adjacent to the target partition, you can merge them with "Merge Partitions" feature. Just click this partition, then follow the wizard to operate.
Verdict 
In this post, we have shared the free disk partition software AOMEI Partition Assistant. From the content, you can totally know the advantages and disadvantages of it.
By the way, it has more powerful abilities, such as cloning HDD to SSD, migrating Windows 10 to SSD, etc.