Best Free Software for Remote Access – Try AnyViewer!
Why do we need remote desktop software?
Remote desktop software accesses a device's screen, mouse, and keyboard inputs and sends them to another device so the user can see or operate it remotely.
Many people utilize free software for remote access to perform several tasks in the following conditions:
Users in a distant location who cannot attend an in-person conference can demonstrate an application or software to others with a remote desktop option.
Users may access their home computers to get the files remotely from work and vice versa.
Workers can use their remote desktop connection to work from any comfortable location other than their office. This may boost their productivity while allowing them to complete most tasks more efficiently.
Users who manage multiple devices can work on both systems simultaneously with a remote desktop connection and complete their tasks faster than anticipated.
Is there a free remote desktop program that offers comprehensive features? Sure! We've tested many remote desktop software and picked up the best one AnyViewer. Please keep reading to get more details!
AnyViewer: Get the best free software for remote access [all-in-one solution]
AnyViewer is a flexible remote desktop free software with a range of features. It's an excellent solution for remote troubleshooting, file transfer, gaming, etc. It can work across many platforms, including Windows, iOS, and Android, which makes remote devices easier for users to access. At any time during a session, users can communicate from end to end through the chat box and view one or more monitors at the same time. It also enables users to manage multiple computers simultaneously.
Key features
Learn more specifically about AnyViewer key features:
Unattended remote access: Users can remotely access an unattended computer and work on it without anyone on the remote side configuring the request.
Screen sharing: Users can only view the remote computer's screen without taking control of it.
File transfer: Users can easily send and receive multiple files between remote and local desktops with fast speed.
Lock/Reboot/Shutdown: Users can remotely lock/reboot/shut down the computer with only one click.
Multi-sessions: Users can control multiple computers simultaneously and quickly switch to each remote control window.
Multi-monitor navigation: Users can connect and view a remote computer with multiple monitors in one window.
Pros & cons
Pros:
√Free. It has a fully free version.
√Easy-to-use. It has simple ways to set up and start remote connections.
√User-friendly. It includes intuitive interface to ensure the best possible user experience.
√High-grade security. It is protected by Elliptic Curve Cryptography encryption, safeguarding your data against leakage.
√Fast & Stable. It is developed by a top-notch technical team, ensuring a fast and stable connection without lag.
√High-image quality. It offers great performance with high-image quality.
√Flexible. It enables flexible ways to launch a remote connection or transfer files between devices, which can meet your demand in different situations.
√Rich features. It provides several free features without requiring in-app purchases.
√Multilingual versions: It supports English, Chinese, German, French, Spanish, and Japanese language settings.
Cons:
×No Mac/Linux versions at present.
How does AnyViewer works [step-by-step guide]
You can easily set up AnyViewer on your devices with the following steps:
On Windows PCs:
Step 1. Download, install, and run AnyViewer on your devices.
Step 2. On the remote computer, sign up and log in AnyViewer account.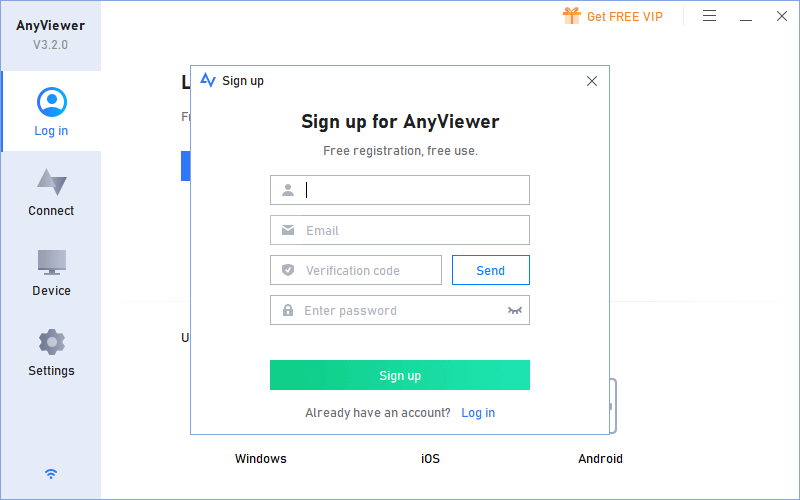 Step 3. Sign in to the same account on the client computer, go to Device, and start a connection by clicking the option button.
On iOS/Android devices:
Step 1. Download, install, and run AnyViewer for mobile on your device.
Step 2. Log in to the same account on your computer.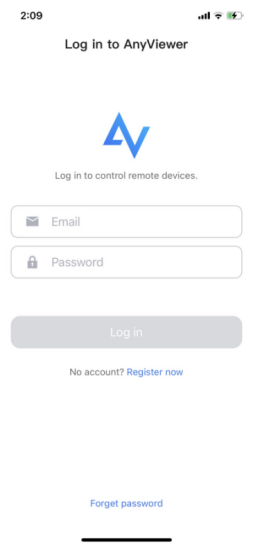 Step 3. Select the remote computer from Device tab to start the connection.
Tip: If you don't want to share your account with others, you can achieve a remote connection with the partner ID by sending a request or inputting a security code.
Conclusion
To select the best free software for remote access, you need to know exactly what features you are looking for. Many software offers different features for individuals, IT explorers, businesses, etc. If you desire an all-in-one solution, AnyViewer is an ideal option that fits your demands well.