Best Cloud Manager for You in 2023
Preface
"I use multiple cloud services, but I can't use them more easily, what should I do?" I will answer this question.
While cloud services are free to use, they have the disadvantage of being complex to manage if multiple services are used. If you can solve the problems related to managing multiple cloud storage accounts, it may solve a lot of trouble for your work.
Therefore, in this article, we will explain how to use various cloud services more comfortably and safely. After reading this article, you will be able to use various cloud services. For those who want to know how to use all cloud services quickly, please use "MultCloud", which can manage multiple clouds as one.
What Cloud Storage Service Can Do for You?
Recently, the arrival of 5G has completely changed our lives. In the 5G era, "cloud services", "Internet of Things", "blockchain", and "artificial intelligence" are known as the "Four Great Artifacts". Whenever a technology that changes people's lives is born, various products derived from this technology will be favored by many users.
And what does cloud storage service bring to users? What are the pros of cloud storage services?
The first advantage of cloud services is that they reduce the initial cost of introduction. The reason is that you don't need to buy your own servers, system development or software.
The second advantage is that you can use the service anywhere as long as the environment is connected to the Internet.
Since it can be used in any environment connected to the Internet, we are able to use cloud services to achieve "telecommuting" and "data sharing". In this context, about 90% of enterprises are accelerating the use of cloud services due to the spread of the new coronavirus.
Best Cloud Storage Manager — MultCloud
Although cloud services are convenient, multiple cloud services are hard to manage. Won't it be hacked? Will my data be compromised? Security is also an issue. Therefore, we recommend using MultCloud, a multiple cloud storage manager.
MultCloud is comfortable enough
The secret to MultCloud's comfort is that it works on any device, be it Mac, Windows, iPhone or Android. You can manage multiple cloud services and transfer, sync and share files on MultCloud. For example, clouds with different services and operation methods such as Dropbox, Google Drive, and OneDrive can perform the same operations on MultCloud, such as one-click completion of cloud file migration.
MultCloud is safe enough
MultCloud data transfers use AES 256-bit encryption and are therefore extremely secure. AES 256 is a method that uses a 256-bit length encryption key in an encryption method called AES (Advanced Encryption Standard).
AES was introduced into the US standard in 2000 by the National Institute of Standards and Technology (NIST) as a new encryption method to replace DES (Data Encryption Standard), which had been the standard encryption method at the time. Public key cryptography uses three types of encryption keys: 128-bit, 192-bit, and 256-bit. AES256 uses the longest encryption key of 256 bits and is said to be one of the strongest encryption methods in 2013.
After all, general encryption technology can be divided into 64bits, 128bits, 192bits, and 256bits. The more numbers, the harder it is to decipher, and the higher the security. Running MultCloud is a long-established software company founded in 2003. From the perspective of "data transfer using AES 256-bit encryption", MultCloud can be said to be quite secure.
How to Use MultCloud to Manage Cloud Storage Services
So, how to use MultCloud to manage your multiple cloud storage accounts? Here are the easy steps.
Step 1. Use your email address to register an account and log in.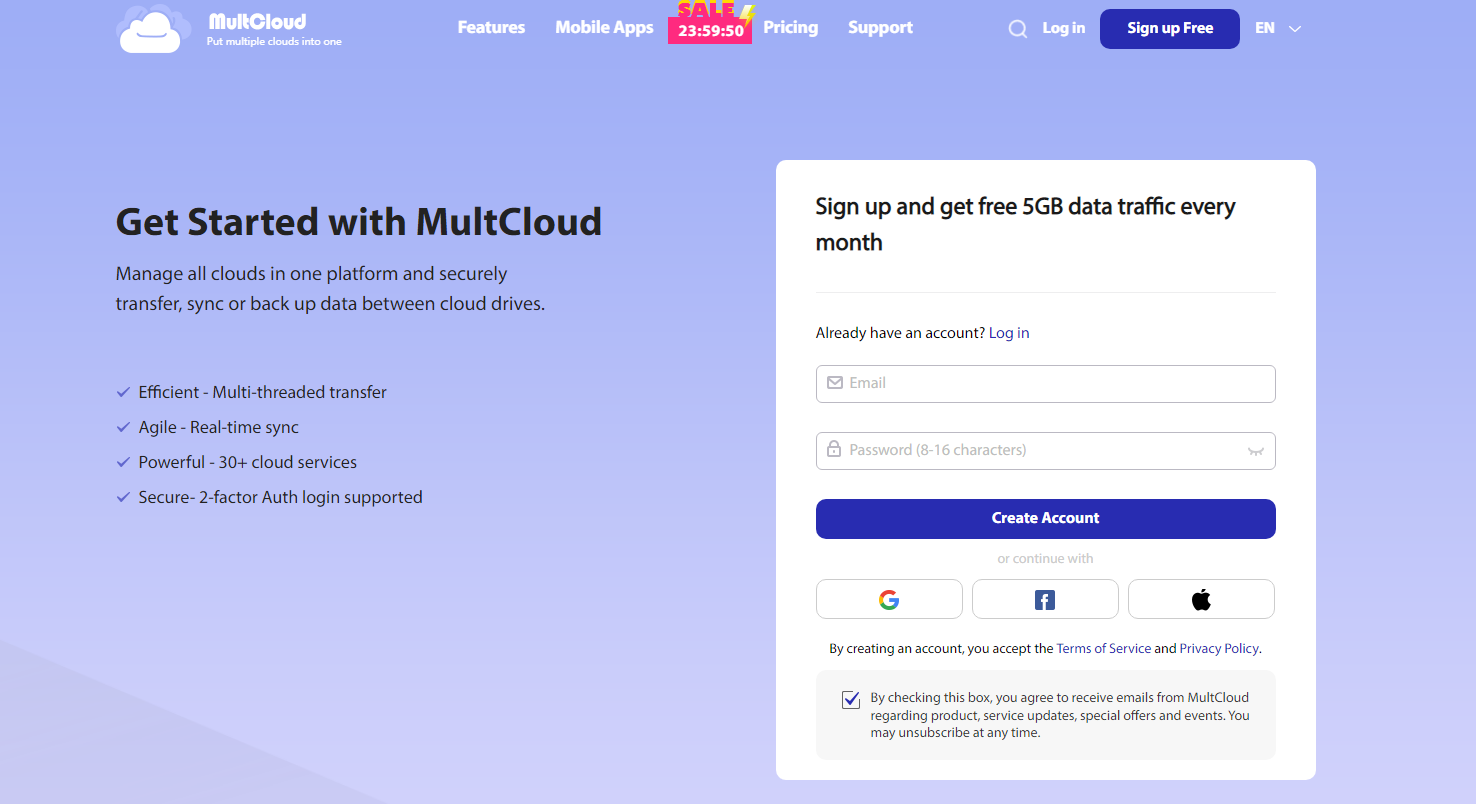 Step 2. Add multiple cloud accounts you use.
Step 3. You can complete basic file processing tasks in MultCloud, such as copy to, download, share, cut, paste, delete, preview, rename, copy.
In addition, you can also use the core functions provided by MultCloud (such as Cloud Transfer, Team Transfer, Cloud Sync, Cloud Backup, Remote Upload, and Share) to complete cloud-to-cloud transfer, sync or backup. For example, you can easily do Box to Google Drive migration.
Summary
"Cloud services" make telecommuting possible, but there is no value in using cloud services alone. If you want to use multiple cloud services more comfortably and securely, please try MultCloud. If you use MultCloud, you can manage cloud services more efficiently and make your work easier.