Ashampoo WinOptimizer 2019 Free for You
Ashampoo WinOptimizer 2019 cleans , boosts and optimizes the performance of your Windows system far beyond what built-in tools can deliver. Multiple included modules help customize , analyze and tweak Windows to your needs. One-click optimization, a user favorite, fixes invalid shortcuts , removes clutter and cleans your browsers off redundant data like browsing history entries and cookies. PC maintenance tools clean the Registry database, remove junk files and browsing traces. Service management tools and powerful process  along with boot optimization help improve your Windows startup times.
Ashampoo WinOptimizer 2019 also features powerful system analysis for detailed information on installed hardware and software. Effective privacy protection is achieved through two integrated modules. The first disables Windows telemetry features to prevent the system from phoning home while the second encrypts and password-protects your sensitive files. Other tools include HDD Benchmark to measure the read and write performance of your hard disks and Context Manager to fix invalid file associations. All cleaners have been updated to support all current software. As a first, Ashampoo WinOptimizer 2019 now includes an SSD wizard to improve the lifespan of your SSDs and the overall performance with your Windows.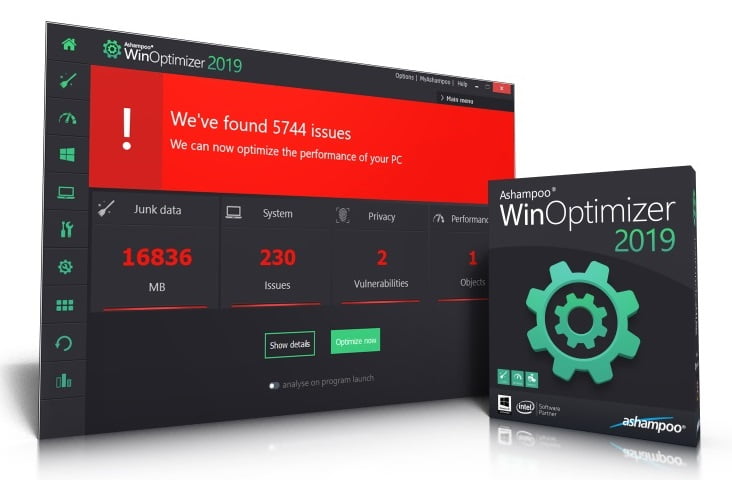 How to download Ashampoo WinOptimizer 2019 Free without product key
Step 1 : you creat account at ashampoo.com by visit here. Then you activate this account.
Step 2 : you download Ashampoo WinOptimizer 2019 by click here
Step 3 : you open this file you download and run it ( ashampoo_winoptimizer_2019_29530.exe ).
Step 4 : you write email and password of your account you creat at step 1 to activate Ashampoo WinOptimizer 2019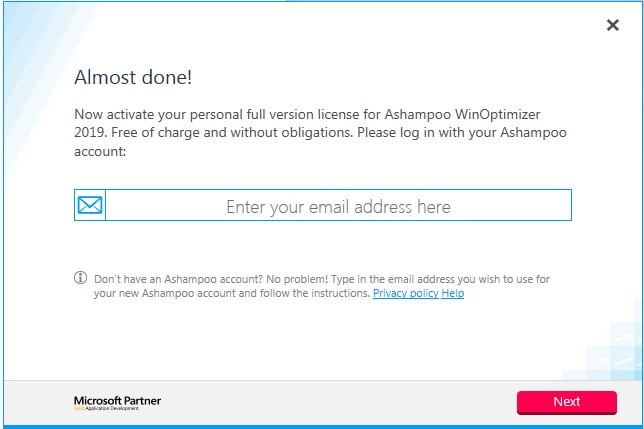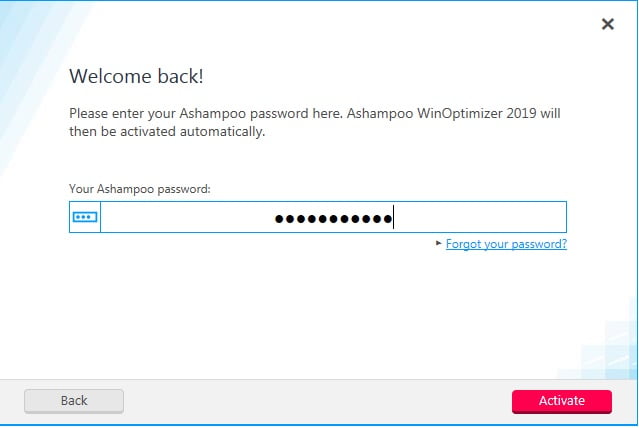 Done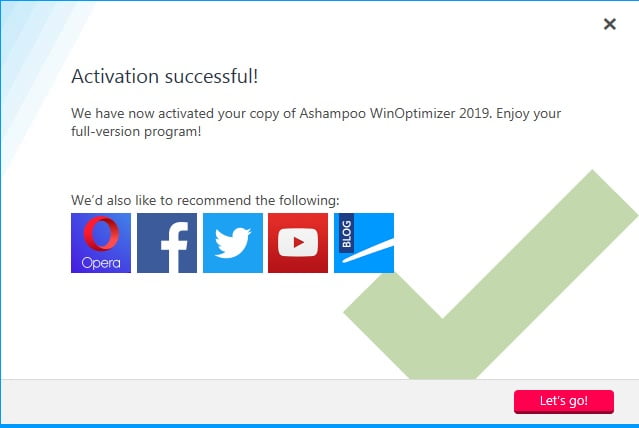 You also download Ashampoo WinOptimizer 2018 free by click here 
You can watch this video to know how to use  Ashampoo WinOptimizer 2019
Main Features of Ashampoo WinOptimizer 2019
System maintenance
Remove internet traces with Internet Cleaner
Clean hard disks with Drive Cleaner
Optimize Windows Registry with Registry Optimizer
1-Click optimization with One-Click-Optimizer
File tools
Securely delete files with File Wiper
Permanentely delete files from the recycle bin
Find invalid program shortcuts with Link Checker
Wipe and overwrite free disk space to securely delete file remnants
Securely encrypt and decrypt files with File Encrypter and Decrypter
Split up huge files with File Splitter
System analysis
Get detailed system information
Innovative hard disk benchmark with detailed results
Manage installed fonts with Font Manager
Detect hard disk issues on time with HDD Inspector
View disk space usage and find large files with DiskSpace Explorer
Benchmark system with System Benchmark
Compare benchmark results online
Improve system performance
Optimize Internet connections with Internet Tuner
SSD Wizard for solid state drives
Disable unnecessary system services for more performance with Service Manager
Speed up Windows startups with Startup Tuner
View and manage running processes with Process Manager
Customize Windows
Maximum privacy protection for Windows 10 with Win10 Privacy Control
Improve privacy with AntiSpy
Adjust hidden settings with tweaking module
Customize Windows context menu with Context Menu Manager
Adjust file associations with File Associator
Terms and Conditions
This is a 1-computer lifetime license
No free updates; if you update the giveaway, it may become unregistered
No free tech support
You must redeem the license key before this offer has ended
May not be resold
Tag : Ashampoo WinOptimizer 2019 Free, Ashampoo WinOptimizer 2018 Free, ashampoo winoptimizer 2019 giveaway license key